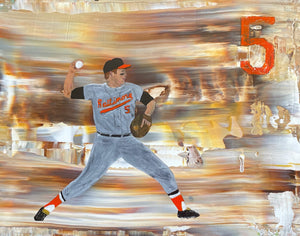 Brooks Robinson Print (11X14)
11X14 limited edition Brooks Robinson print on archival paper, signed and numbered.
Print Run: 10
Please allow up to 2 weeks for delivery.
Robinson, "Mr. Hoover" is widely regarded as the best defensive third baseman in baseball history. He collected an astonishing 16 Gold Gloves, was and 18X All Star, 2X World Series Champion ('66 and '71) and elected to the Baseball Hall of Fame in 1983.
Teammate and fellow HoF'er Frank Robinson said, "He was the best defensive player at any position. I used to stand in the outfield like a fan and watch him make play after play. I used to think, 'Wow! I can't believe this.'"