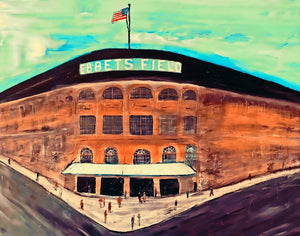 Ebbets Field Exterior Print (11X14)
11X14 limited edition Ebbets Field print on archival paper, signed and numbered.
Print Run: 10
Please allow up to 2 weeks for delivery.
There was something special about Ebbets Field! The Brooklyn Dodgers played there from 1913-1957. With the exception of possibly Yankee Stadium, there may not have been another ballpark in baseball history that was more iconic and loved.
"Sometimes, sitting in the park with my boys, I imagine myself back at Ebbets Field, a young girl once more in the presence of my father, watching the players of my youth on the grass fields below - Jackie Robinson, Duke snider, Roy Campanella, Gil Hodges. There is magic in these moments, for when I open my eyes and see my sons in the place where my father once sat, I feel an invisible bond among our three generations, an anchor of loyalty and love linking my sons to the grandfather whose face they have never seen but whose person they have come to know through this most timeless of sports." - Doris Kearns Goodwin "Wait 'Til Next Year"
"We Wept. Brooklyn was a lovely place to hit. If you got a ball in the air, you had a chance to get it out. When they tore down Ebbets Field, they tore down a little piece of me." - Duke Snider