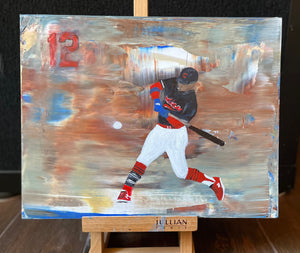 Francisco Lindor Painting (11X14)
As a lifelong Tribe fan I can't even begin to tell you how much joy I have watching Francisco Lindor play for my hometown team!
Lindor is the first modern legend I have added to this series of original paintings. It comes on an 11x14 wood canvas, is 1 of 1 and there is no other like it.
At 27 years old, Lindor is already one of the most beloved players in Cleveland history! He made his MLB debut just 5 years ago and is already a 4x All-Star, 2x Gold Glove winner and 2x Silver Slugger winner.
Praying that somehow Cleveland's front office finds a way to keep him!
Hope you enjoy the painting!
-Mike