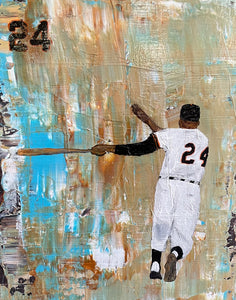 Willie Mays Print (11X14)
11X14 limited edition Willie Mays print on archival paper, signed and numbered.
Print Run: 10
Please allow up to 2 weeks for delivery.
Willie Mays was a 24x All-Star, World Champion (1954), 2x NL MVP, 12x Gold Glove winner, member of MLB's "All Century Team" and Baseball Hall of Fame Class of '79. He finished his remarkable career with .302 lifetime batting average, 3,283 hits, 660 home runs and 338 stolen bases.
"If somebody came up and hit .450, stole 100 bases and performed a miracle in the field every day, I'd still look you in the eye and say Willie was better." – Leo Durocher
"They invented the All-Star Game for Willie Mays." - Ted Williams